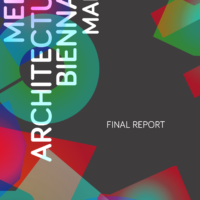 The research group [urban interfaces] I am part of was one of the organizing partners of the Media Architecture Biennale 2020, which took place 28 June – 2 July 2021 (after being was postponed due to Corona).
Read the final MAB20 report here (pdf 5 MB) >>
The Media Architecture Biennale (MAB20) took place from June 24th – July 2nd 2021, and was organized by Utrecht University (UU) and the University of Applied Science in Amsterdam (AUAS). MAB20 was organized by the Special Interest Group The Playful City: towards playful urban futuring, with kind financial support from the Utrecht Center for Game Research. The event hosted  around 550 people, who participated in 15 workshops, and another 600+ people from around the world attending the online conference, with almost 150 speakers, 42 online conference sessions, featuring inspiring and thought-provoking presentations. Due to the ongoing global pandemic, the Media Architecture Biennale had to be adapted and re-imagined. Therefore, the MAB20 Program took place online, with LIVE studio hosting and presentations from Pakhuis De Zwijger in Amsterdam.