The [urban interfaces] research group, composed of Nanna Verhoeff, Sigrid Merx and Michiel de Lange, have co-edited a special issue in Leonardo Electronic Almanac, titled "Urban Interfaces: Media, Art and Performance in Public Spaces". We ar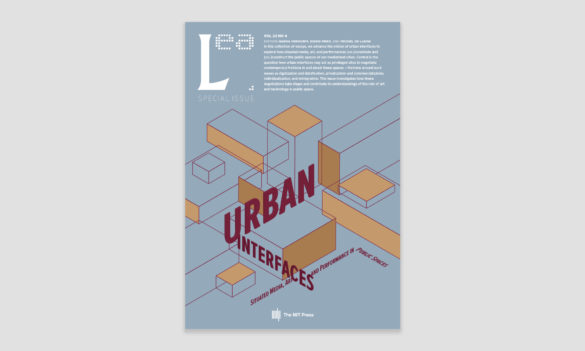 e currently wrapping up the last tidbits. See the special issue on the LEA website >>.
In this collection of essays, we advance the notion of urban interfaces to explore how situated media, art, and performances (co-)constitute and (co-)construct the public spaces of our mediatized cities. Central is the question how urban interfaces may act as privileged sites to negotiate contemporary frictions in and about these spaces – frictions around such issues as digitization and datafication, privatization and commercialization, individualization, and immigration. This issue investigates how these negotiations take shape and contribute to understandings of the role of art and technology in public space.
Among the contributions is our own introduction to the issue, called "Urban Interfaces: Between Object, Concept, and Cultural Practice."
On Oct. 30 2019, we're launching the special issue as a pre-event at the IMPAKT Festival in Utrecht. You are welcome to attend.
30 October 2019
17:00 – 18:30
Studio 3, Het Huis, Boorstraat 107
Mini-Symposium Urban Interfaces
This mini-symposium on Urban Interfaces is to celebrate the launch of the online Urban Interfaces Special Issue on Leonardo Electronic Almanac! You are all warmly invited!
The issue approaches interfaces in a contemporary urban context, and explores the different ways in which situated media, art, and performances create, intervene in, and transform urban spaces. The contributions in this issue are aimed at investigating what interfaces, ranging from window facades in city streets to creative mobile apps, do; as well as how contemporary technological frictions, like digitization and commercialization, are negotiated in mediatized public spaces.
During this mini-symposium evening contributing authors Dr. Liesbeth Groot Nibbelink, dr. Eef Masson, and dr. Karin van Es will speak about their essays, artist Richard Vijgen will present his artistic practice and scholar in art, design and architecture dr. Katherine Willis will respond to the issue as a whole.
Entrance is free.
Afterwards there will be free drinks, after which the official opening of Impakt festival will start in the same building.
More info here >>