[this post also appears on The Mobile City]

As part of the overarching project Made By Us, The New Institute and The Mobile City in collaboration with CMoDA organize a two-day workshop during the Beijing Design Week. In this workshop participants from various professional and national backgrounds address the reuse of former industrial plants through digital media technologies. The site we work with is Shougang Capital Steel Factory in west Beijing, which was abandoned to improve the city's air quality (read more about the factory's history). This factory, abandoned is currently being repurposed into a creative industry park and housing area. The challenge is to help design smart media interventions that engage stakeholders in postindustrial development of the abandoned factory The three creative makers who are part of Made By Us – new media artist Sander Veenhof, Niki Smit from game studio Monobanda, and Mark van der Net (OSCity) – guide three teams. The workshop program is structured as an iterative process in which the original question is revisited, ideas tested, and rough prototypes are made for an intervention (product, service and/or approach). Outcomes of this workshop will inform the subsequent process of Made By Us in the Netherlands and Shenzhen. More about the workshop background in the call for participation.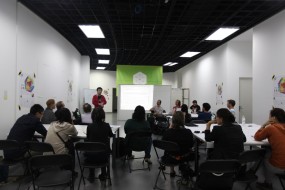 On day 1 we started out by introducing the theme, dividing participants into teams and getting to know each other. We then visited one of the vast premises of the Capital Steel Factory by bus to meet with Mr. FU, a representative of the site developer ShouGang Industrial Park Development Management Office. He talked us through the history, present condition and future plans for the area, and showed us a large size scale model with the prospective plans. The area includes a core consisting of industrial heritage buildings that need protection and cannot be modified on the outside, and more peripheral land where housing and enterprise are planned. So far there's a multi-tier planning process starting in 2014, 2015 and 2018.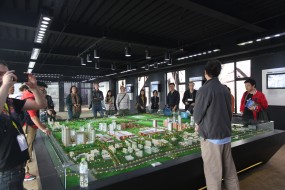 So far, the plans all seem to be directed very much top-down, even for the industrial heritage site. One of our participants for instance asked if Capital Steel follows the organic growth model associated with Beijing's well-known 798 art district, to which Mr. FU replied "no, it will be a master plan". For us it is of course not necessary to stick to this blueprint approach, since we're not working for them but instead are developing our own plans and processes that are much more participatory and about creating new senses of non-exclusive ownership among different people.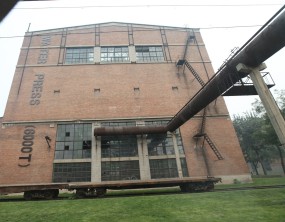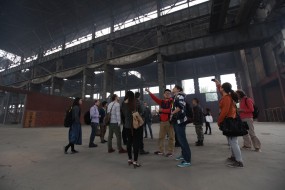 After lunch outside of the factory site, we were shown around. We visited the oldest building that the Sovjets constructed in 1958. It now looked very derelict and clearly in bad shape with large cracks and rot in the concrete pillars. But so beautiful… Everyone clearly experienced awe and became tremendously inspired by the possibilities for this huge space. We could have walked around for hours on the terrain, just looking and absorbing the environment.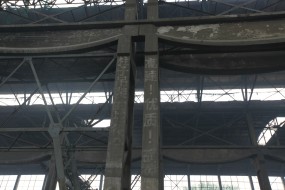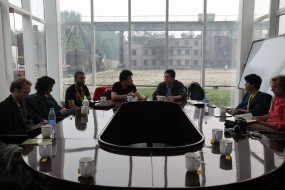 But we had another round of Q&As with Mr. FU in a nearby room that was built anew. The participants and makers raised good questions about whether the terrain was open to the general public, where the former workers are now, what kind of events take place now, about the communication strategy they use, and whether they are open to unconventional ideas. Although the terrain is not officially open to the public, I did speak to a young woman who brought her little son to see where she had worked ten years of her life. She simply drove her car unto the terrain and stopped halfway, allowing her boy to play on the old railway tracks and lorries.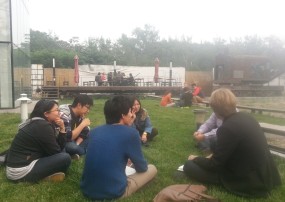 After having talked with Mr. FU from the factory, the teams separately began their ideation phase. This was meant to establish the issue(s) at stake. In other words: What is the problem you are trying to solve, and for whom? Or in the positive approach of one of the teams: What are the opportunities that you see here that are worth developing further? Some of the issues that came up were:
– Matter of scale: what can you do with a space that is so huge?
– Matter of distance: how do you draw people to that area, either or both locals and people city-wide.
– Matter of time: what can you do in the short run and what on a longer term?
– Matter of audience: who are the obvious stakeholders and who are latent stakeholders, who don't know yet that they might do something there?
– Clash between the medium and the space: how to draw people to experience the terrain rather than just the medium? And what can small-scale media interventions mean for large-scale spaces?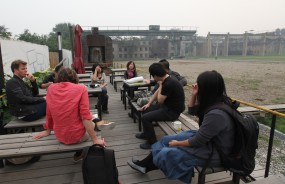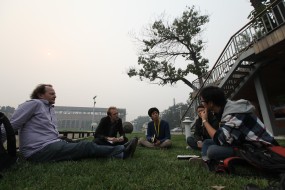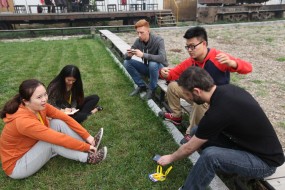 Teams also came up with some initial wild ideas through brainstorming sessions. When the clock hit 17:00 we had to leave the terrain and headed over directly to the dinner place, where we had a lovely Sichuan spicy hotpot and continued our discussion at the table. Unfortunately it wasn't possible to do a public round to recap the day's findings. That's what happened in the morning of day 2.
Read Edo Dijksterhuis' report of the Made By Us workshop (in Dutch) on the Stimuleringsfonds website
Program day 1
09:30 Registration at CMoDA.
10:00 Welcome YANG Lei (CMoDA), Floor van Spaendonck (The New Institute), and introduction Made By Us workshop theme, aims and approach by Michiel de Lange (The Mobile City).
10:15 Short introduction by workshop participants.
10:30 Formation of teams; Travel to workshop site Capital Steel Factory; teams divide tasks among themselves (time management, .
11:00 Teams gather; tour and briefing about Capital Steel Factory and its ambitions; questions.
12:30 Lunch.
13:30 Initial brainstorming in teams; in-depth questioning and discussion; team formulates initial hypotheses about issue at stake.
15:00 On-site research, meeting with other stakeholders, further questions, interviews, etc.
16:00 Analysis phase: reformulating hypothesis on the basis of fieldwork/research/discussion.
17:00 Return for drinks/dinner.
The program Made By Us is partly funded by the Netherlands Creative Industries Fund.