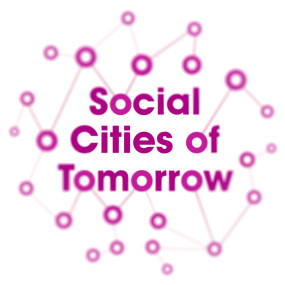 We are happy to announce a new event: Social Cities of Tomorrow. Social Cities of Tomorrow is an international conference that takes place on 17 February 2012, plus an intensive three-day pre-conference workshop on 14 ? 16 February, in Amsterdam Netherlands. Social Cities of Tomorrow is organised by The Mobile City, Virtueel Platform and ARCAM.
Using digital media technologies for collective urban issues
Our everyday lives are increasingly shaped by digital media technologies, from smart cards and intelligent GPS systems to social media and smartphones. How can we use digital media technologies to make our cities more social, rather than just more hi-tech?
This international conference brings together key thinkers and doers working in the fields of new media and urbanism. Keynote speakers such as Usman Haque, Natalie Jeremijenko will speak about the promises and challenges in this newly emerging and highly interdisciplinary field of urban design. The keynotes will be accompanied by presentations of 'best practices' from various disciplines, such as architecture, art, design, and policy.
Join us in February 2012 at Amsterdam's Westergasfabriek to explore how urban designers, interface developers, app builders, policy makers, housing coorations, artists, scientists and others can use digital technologies to organise citizen engagement, and to contribute to our social cities of tomorrow.
Visit the event website here: www.socialcitiesoftomorrow.nl